A NEW "130 YEAR OLD VINTAGE"
BACK TO THE SURFACE!
In 2019, the Gouffre of Padirac celebrated the 130th anniversary of its discovery. To mark this occasion, collaborated with Clos Triguedina to create its first "130-year old vintage", burying bottles of Probus 2016, 103 metres underground. Deconfined in the summer of 2021, this first a success, the Gouffre of Padirac has decided to perpetuate this unusual wine experience.
On 24 September, 600 bottles and 24 magnums of Probus 2017 were buried at the foot of the Grand Dôme room in the same exceptional conditions: 13° and 98% humidity.
The time for tasting has arrived! This Friday, June 24, 2022, the limited series of top-of-the-range wine will return to the surface, to the delight of wine lovers!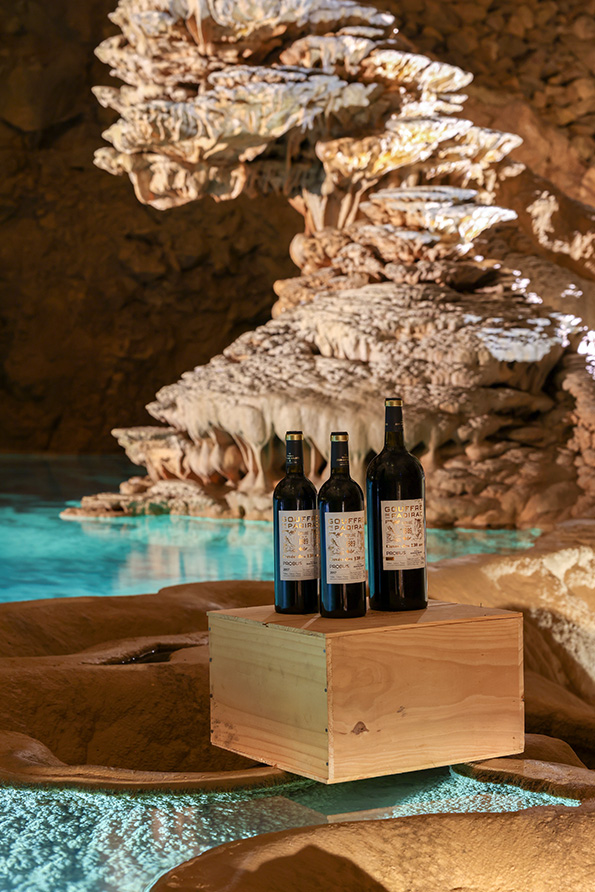 ---
PRACTICAL INFORMATIONS:
Lovers of wine and unusual experiences will be able to taste this vintage 103 meters underground during the special VIP "130 Years old cuvéetasting" tours of the Gouffre of Padirac, at the foot of the incredible Grand Dôme. An exceptional private visit (subject to availability, the edition being limited).
Bottles of this limited series will also be on sale from 25 June at the Gouffre of Padirac delicatessen kiosk and at Clos Triguedina.
Price: 65 euros per bottle.